Advertise on ProjectBirdie
We have site-wide and targeted sponsorship opportunities every month.
Contact to get started.
Reach the right golfers with your campaign
Advertise to golfers in your region — sell lessons, green fees, and memberships.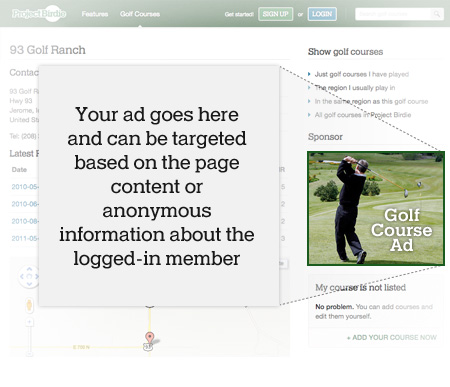 Audience Targeting
When our members enter their golf scores they create targeting information:
The golf courses they play
This provides some idea of geographic location a golfer lives in, without needing their exact city or street address.
With location-targeting, we deliver ads to our golfer members for businesses they can visit in person (golf courses, restaurants, golf instructors, golf shops).
Handicap Index
Display different ads to golfers of different skill levels, or target only a specific group based on their handicap index.
When they golf
Patterns in the day of the week that a golfer plays help target banner creative and special offers like week-day deals.